Outsourcing your company's computer system save time, effort and money. We can take over your IT Department for less than it costs to hire one IT guy. IBN Group deliver IT services and solutions to your business needs by using a team based approach. As a client, you will find a team of top technology experts working with you to deliver the best IT services and care the industry has to offer at the best price.
Now IBN Group delivers responsive and personable computer support that is not typically found in the small and midsize business community. Our approach tailors solutions to meet your business needs for computer networks, computer maintenance, network consulting and computer repair. We can help you prepare and build towards the future you want for your business! Our computer maintenance and network services are targeted to businesses with offices in U.S Midwest region and satellite offices across the U.S.
As a Now 
IBN Group
 client, utilizing one of our many Service Programs - we service your technology fleet and support your employees. Our monthly/yearly computer network support agreements offer:
Help desk support to your employees (office or remote-workers) 
Automated maintenance tasks that run on your schedule
Secure & protected client data, financial documentation and sensitive files
As a business owner, you expect your technology fleet to perform for you every day. Our monthly network support agreements are designed to ensure your computer equipment remains fully functional so that you can continue to bring in revenue and focus on making your business even more successful.
Atrex Inventory Control System - Maintenance, Design and Setup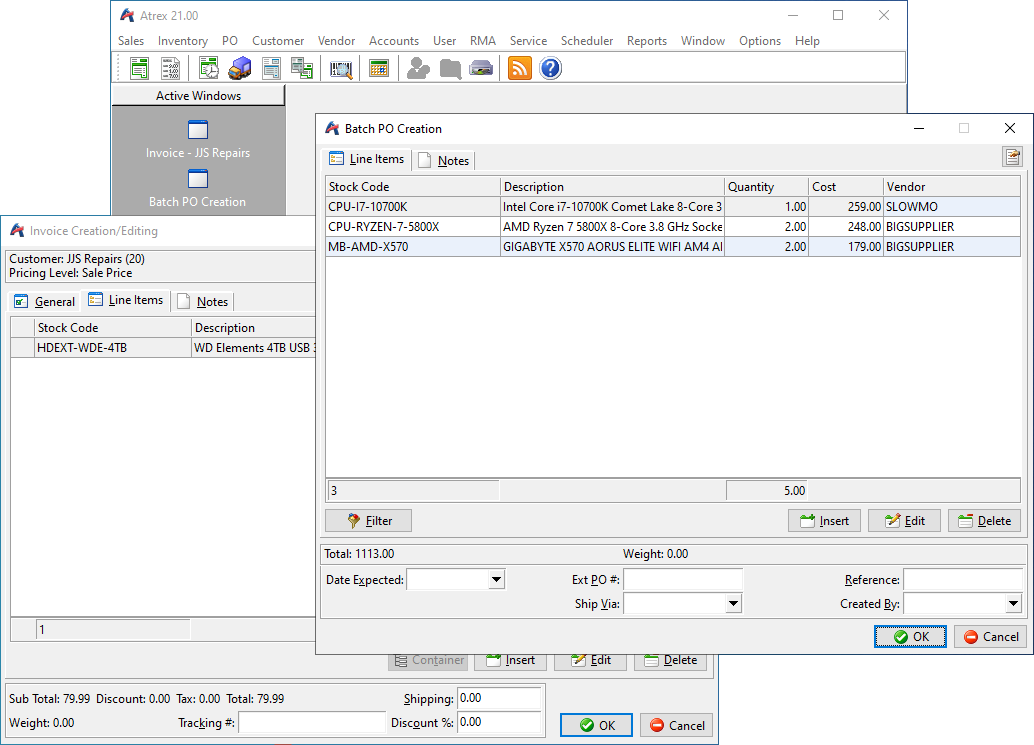 Atrex is an inventory control/point-of-sale (POS) package for the business that desires complete control over stock levels and inventory tracking. Designed for the Microsoft Windows environment, Atrex is comprehensive, intuitive, and easy to use.
Rather than being designed for any one specifc industry, Atrex is designed to be usable by most retail or wholesale operations. Current Atrex installations include computer retailers, pet stores, crafters, motorcycle dealers, automotive repair shops, locksmiths, and government agencies.
If you're tired of running your business by hand, computerization is one of the quickest and most efficient ways to increase the profits of your business. Computerization allows you to quickly determine how much stock you have on hand, see when you are running low on certain items without having to do a physical inventory, create and generate a mailing list of customers to promote repeat business, and keep a history of your sales. Simply put, we are in the business of making your business run smoother.
If your business is already computerized and you're looking for a new inventory/point-of-sale control program, Atrex has import capabilities for customers, stock codes and vendors.

 Point-of-sale invoicing, order entry, and quotations 

 Recurring invoicing 

 Purchase orders 

 Vendor and Customer RMAs

 Multi-job service orders and service quotes 

 Available Add-On for importing and exporting to the Zen Cart shopping cart

 Support for temporary "Show" locations 

 Simple receivables, payables, and bank account tracking 

 20 character alphanumeric stock codes 

 Handles serialized, non-serialized, container (kits), and assembly items 

 Add customers, vendors, and stock codes during a transaction 

 Multiple pricing levels (5), unlimited pricing categories, and automatic price adjustments

 90+ standard reports

 Built in report designer for report customization or creation of new reports

 Uses a high speed embedded database engine with Client/Server capabilities*

 Available ODBC driver allows for external reporting 

 Import capabilities for stock codes, customers, and vendors

 Store notes on individual customers, stock codes, or transactions 

 Bad check/debt indicators 

 Barcode reader support 

 Prints stock code labels with bar codes 

 Menu level security

 Cash drawer support 

 Built in database backup capabilities

 All transactions are real time to allow up-to-the minute reporting 

 Support for multiple date formats, open phone number fields, and alphanumeric postal codes 

 Network and multi-user ready

 Supports add on tax rates

 Credit card authorization available through Mercury Payment Systems, and FDMS via Versatalis Payment Solutions